Mutual of Omaha Medicare Supplement Plan F – 2024
Plan F is the most popular Mutual of Omaha Medicare Supplement plan. No other standardized Medicare Supplement plan offered in Georgia offers more complete protection for your uncovered Part B medical expenses than Plan F.
Medicare Supplement Plan F has also been the #1 seller with Baby Boomers for many years. According to a report from America's Health Insurance professionals in 2016, about 57% of all Medigap policies in force were a premium Medicare Plan F policy. However, Plan F is now only available to those who became eligible for Medicare prior to January 1, 2020.
If you became eligible for Medicare on or after January 1, 2020, you'll find that Plan G is the most comprehensive Medigap plan available to you. (In recent years, Plan G has been the second most popular Medicare Supplement plan, and you can read more on that below.)
A Medigap plan, or Medicare Supplement, pays after Medicare to help cover your deductibles, copays, and coinsurance that you would otherwise be responsible for. Medigap plans do not replace your Medicare Part B. You must be enrolled in both Part A and Part B first, then you are eligible to enroll in Medicare Supplement Plan F.
When you add a Medicare Supplement Plan F or G to your Original Medicare benefits, your coverage will be quite comprehensive. By definition, Medigap Plan F is the Medicare Supplement policy with the most benefits. (Sometimes people refer to Plan F as Medicare Part F or Medigap Part F, but correct terminology is Plan F. Just remember: only Medicare itself has Parts.)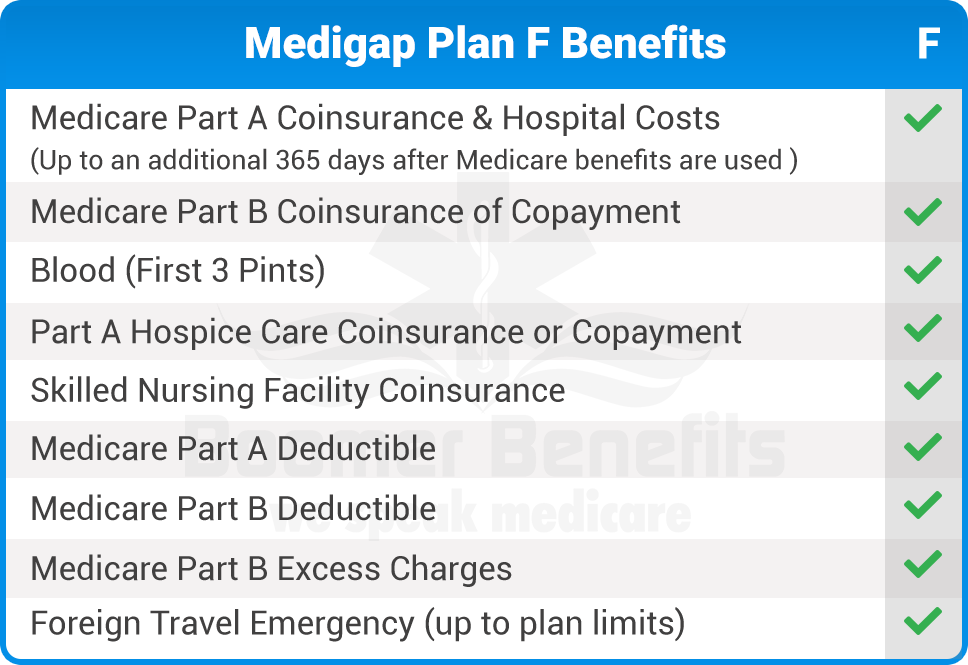 Plan F covers:
Your Part A deductible and coinsurance
The cost of 365 extra days of hospital care during your lifetime after Medicare coverage ends
Your Part B coinsurance and the cost of the first three pints of blood
Medicare Part A hospital deductible and copayments
Skilled nursing facility copayment
Foreign travel emergency care
$233 Part B Medicare deductible
Part B doctor charges that are in excess of Medicare-approved amounts
Medicare Plan F Pays your Deductibles AND Co-insurance
Here's an example: if you have no Supplement, you would owe a $1,556 deductible (Part A deductible in 2022) when you go to the hospital. You would also pay 20% of expensive procedures like surgery because Part B only pays 80%.
If you had a Medigap F policy, though, all of these would be paid for by your insurance.
You might be surprised to learn that there are many solid insurance companies with good financial ratings that offer rates lower than the big brand-name carriers. Get a free quote for Medigap F right here.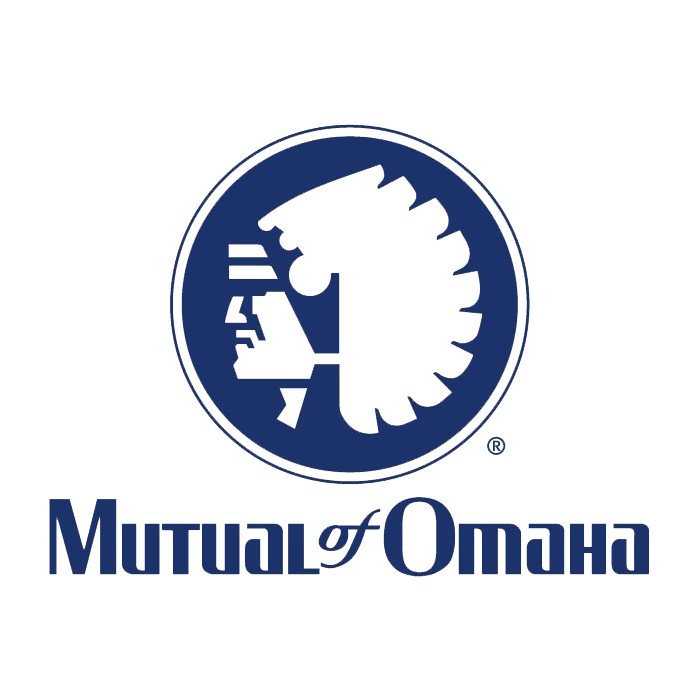 About The Carrier
Mutual of Omaha Medicare Supplement Plans are highly popular in Georgia and usually have the lowest rates. They take an attained-age rating approach to pricing their Medicare supplements and have lower rates for non-tobacco users.
Countdown to Start of Open Enrollment
Don't Delay the Start of Your New Coverage